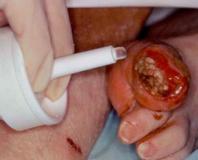 제품 특성
부분적으로 수화된 하이드로젤 형성
프로필렌 글리콜 보유
독특한 용기, 다양한 용량
제품의 장점
젤의 부분적인 수화 형성이 젤이 건조환경에 수분을 공급하고, 습윤 치유 환경을 조성하면서 계속적으로 습윤 환경을 배가시켜 줍니다.
Necrotic tissue debridment (괴사 조직 제거)
괴사조직을 재수화시키고, 부드럽지만 빠르고 효과적으로 괴사조직을 제거해줍니다.
Sloughy tissue debridment (부육조직 제거)
손상에 노출된 육아조직에 손상없이 부육과 삼출물을 흡수해줍니다.
Moist Wound environment (습윤 환경 조성)
젤은 상처 표면에 습윤도를 증가시키고, 가피 형성을 막아주며
손상에 노출된 육아조직을 습윤하게 유지시키고, 상피세포의 이주를 촉진시켜 이상적인 습윤 환경을 조성해줍니다.
Conformable (유연한 효과)
부드럽지만 효과적으로 세부 육아조직의 손상을 막고, 외상을 줄입니다.
Non-adherent (비점착성)
상처에 달라붙지 않아 생리적 식염수로 세정시 쉽게 제거되며
환자에게 불필요한 통증을 유발시키지 않고, 손상에 노출된 조직에 피해를 주지않습니다.
Clinical evidence (의학적 입증)
광범위한 의학적 자료에 근거 모든 단계의 상처 치유과정에 사용가능합니다.
Bacteria barrier (박테리아 차단효과)
젤은 프로필렌글리콜을 보유해서 박테리아 차단효과를 가진다.
또한 글리콜은 젤을 건조하지 않게 해서, 습윤제로서의 역할을 하며 관리가 용이하게 한다.
Easy to use (편리한 사용방법)
Applipack 형태로 쉽게 상처에 바로 적용할 수 있고, 굴곡진 부위에도 사용이 편리하다.
Various product range (다양한 용량)
다양한 용량이 있어 상처 크기에 따라 조절하여 사용가능하고, 낭비를 막아 비용 효율적인 제품입니다.

적응증
얕거나 깊은 개방상처, 욕창, 하지궤양, 외과적 상처, 악성 상처, 낮은 단계의 화상, 딱지, 열상, 절상, 또한 육아조직이 생성되는 사강 상처
의학적 관찰이 있을시 감염 상처에 사용할 수 있다
반적응증 및 주의사항
젤이나 유사성분에 민감성이 알려진 환자
약간 벌어진, 깊은 상처, 젤제거가 어려운 곳, 눈부위에는 유의해서 사용해야 한다.
젤은 외용이며, 경구용으로 사용해서는 안 된다.
Product Availability

| | | |
| --- | --- | --- |
| Code | Size | Q'ty /Carton |
| 7308 | 8g | 10개 |
| 7311 | 15g | 10개 |
| 7313 | 25g | 10개 |
사용법
Step 1:
상처 부위를 적용전에 준비를 합니다.
이차 드레싱을 제거하고, 상처 부위를 셀라인으로 세척합니다.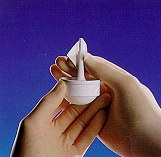 Step 2:
보호 마개를 제거합니다.
항균 탈지면으로 입구 부분을 세척합니다.
입구 부분을 부러뜨려 제거합니다.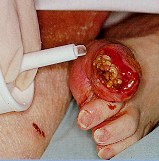 Step 3:
상처에 인트라사이트제를 도포합니다.
상처 표면에 부드럽게 누르면서 상처에 적용합니다.
상처에 5mm 두께로 적용합니다.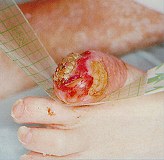 Step 4:
이차드레싱으로 다음과 드레싱을 적용합니다.
괴사조직 - 옵사이트 플렉시픽스,
부육 조직 - 알레빈 + 옵사이트 플렉시픽스
육아 조직 - 알레빈 + 옵사이트 플렉시픽스
감염 조직 - 액티코트

Step 5:
인트라사이트 젤의 제거
인트라사이트 젤은 셀라인으로 헹구는 방법으로 제거합니다.
괴사조직이나 부육조직의 경우, 적어도 3일에 한번씩은 드레싱 교환을 해야하며 육아조직의 경우, 혹은 드레싱의 교환은 상처의 임상적인 상태나 삼출물의 양에 따라 결정된다.

임상자료
Paper title: The efficacy of a hydrogel in the treatment of wounds with non viable tissue
Author: Flanagan M.
Reference: Journal of Woundcare June, Vol 4, NO 6, 1995, 264-267
Study abstract: Failure to debride or cleanse a wound which consists of non-viable tissue will delay wound healing, may lead to an increase in wound size and could predispose to clinical infection particularly by anaerobic organisms.
Autolysis is the natural process of wound debridement. During autolysis the non-viable tissue is separated from the viable tissue in the wound bed by enzymes and macrophage activity. Hydrogels have been shown to promote autolysis by providing a moist wound environment. They can both donate and absorb fluid and can therefore be used to manage exuding wounds which contain non-viable tissue. These products are also used to manage infected wounds which require conservative debridement.
The purpose of the study was to assess efficacy and handling of an amorphous hydrogel (a modified formulation of IntraSite* Gel) in the debridement of wounds containing non-viable tissue which were treated in the hospital or community.
Results show an overall reduction in non-viable tissue of median 75% over the study period of 21 days. (leg ulcers 60%, pressure sores 75%, others 83%).
The product was shown to be both easy to apply and remove with 94% of assessed applications problem-free and 92% of assessed product removals reported as easy, no difficulties.
A difference in duration of wear was observed between the home care and hospital environments (median wear-time community 2.1 days, hospital 0.9 days) probably as a result of differences in resource.
Amorphous hydrogels are indicated for the debridement of non-viable tissue across a wide range of wound types and conditions. Hydrogels form an essential option in treatment regimes for cleansing of sloughy and necrotic wounds.
Paper title: Managing sloughy pressure sores
Author: Colin D. et al
Reference: Journal of Woundcare, Vol 5; NO 10, 1996
Study abstract: This clinical investigation compares the performance of an amorphous hydrogel and a dextranomer paste in the management of sloughy pressure sores in the hospital environment. Specific parameters measured during the study were efficacy, safety, ease of handling and patient comfort. The clinical investigation was restricted to the debridement of sloughy non viable tissue only. The amorphous hydrogel and dextranomer paste performed to a similar standard in terms of debridement of non viable tissue. At day 21, however, the median reduction in wound area was 35% in the amorphous hydrogel group compared to 7% in the dextranomer paste group. The hydrogel had a greater impact in reducing wound area. This different was statistically significant and demonstrates that the amorphous hydrogel provides an environment that facilitates wound healing.
In all of the parameters assessed, the amorphous hydrogel was found to be superior to the dextranomer paste dressing.