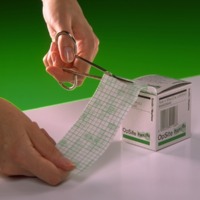 제품 특성
제품의 장점
Opsite film (옵사이트 필름)
필름은 방수 박테리아를 차단이 가능하며.높은 수분 증발력이 피부가 숨쉬는 것을 가능하게 합니다.
아크릴 접착제 성분은 드레싱 교체시, 장시간 사용 후에 피부 손상의 위험성을 최소화합니다.
굴곡진 부위에 적용이 유리합니다.
옵사이트 플렉시픽스는 굴곡진 신체부위나 카테터 고정용 드레싱으로 쉽게 적용할 수 있습니다.
독특한 롤 형태
독특한 롤 형태이기 때문에 드레싱 고정을 안전하게 하며, 방수가능할 뿐 아니라 빠르게 적용할 수 있어 경제적인 잇점이 있습니다.
적응증
다음과 같은 용도로 사용 할 수 있습니다.

1차 드레싱의 고정 (알레빈 ~ 하이드로셀룰라 폴리우레탄 드레싱)
카테터의 고정
말초 신경병증 환자의 통증 관리
leg bag, stoma 장치 주변의 피부 보호

Product Availability

| | | |
| --- | --- | --- |
| Code | Size | Q'ty /Carton |
| 66000040 | 5cm x 10cm | 1개 |
| 66000041 | 10cm x 10cm | 1개 |
사용법
Step 1:
원하는 길이만큼 롤을 절단합니다.
Step 2:
보호지 중간을 벌이면서 길이만큼 벗겨냅니다.
1번이라고 인쇄된 이면지를 제거합니다.
Step 3:
필름을 원하는 부위에 부드럽게 적용합니다.
Step 4:
녹색의 중간지를 제거합니다.
Step 5:
필름을 제거할 때는 피부와 수평방향으로 가볍게 늘이면서 제거합니다.
임상자료
Paper title:
Application of OpSite* Flexigrid*: film: a new and effective treatment of painful diabetic neuropathy.
Author:
A V M Foster, C Eaton, D O McConville, M E Edmonds
Reference:
Diabetic Medicine (1994) 11: 768-772
Study abstract:
The aim of the study was to assess the effect of application of OpSite* dressings on the pain and quality of life in 33 patients with chronic diabetic neuropathy. The effect of OpSite was compared with no treatment. After a run-in period of 2 weeks, OpSite was applied to one of the painful legs for 4 weeks. This was followed by another period of 4 weeks when OpSite was switched to the opposite leg. Pain was assessed by visual analogue scale and the primary analysis variable was within patient difference in pain between OpSite leg and no treatment leg as week 4 corrected for baseline. Secondary variables were paracetamol pill ingestion and the quality of life dimensions, sleep, mobility, contact, discomfort, appetite and mood. Changes in these variables from baseline to weeks 4 and 8 were analysed. There was a significantly greater reduction in pain in the OpSite treated limbs than the control limbs (p < 0.001). By week 4 paracetamol intake also declined significantly (p = 0.034) and patients experienced a significant improvement in contact discomfort, sleep, mood, appetite and mobility (p < 0.002 for all 5 variables). OpSite appeared to alleviate the pain associated with diabetic painful neuropathy and thus improved patient뭩 quality of life.